Flexible Caching for Your Customers
LiteSpeed Cache for PrestaShop 1.6 and 1.7 supports multiple stores, multi-language, multi-currency, geolocation and mobile view. The sophisticated tag-based system allows a targeted cache purge to be triggered by builtin events as well as third-party programs.
Use ESI to "punch holes" for personalized content on public pages, and serve fully-cached content to both logged-out and logged-in users.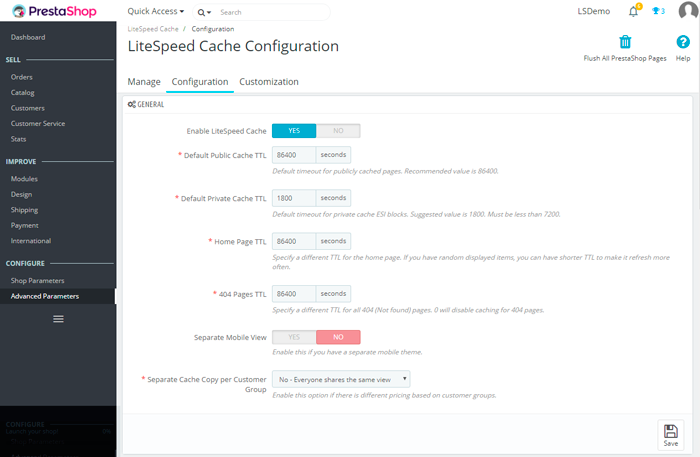 ---

Why Should You Use LiteSpeed Cache for PrestaShop?
With public cache, private cache, and ESI capabilities, LiteSpeed Cache allows you to serve cached content to all of your varied customers, and delivers impressive performance to your store.
Server-Level Full-Page Cache
Support for PrestaShop 1.6 and 1.7+
Support for 3rd-Party Modules
Supports Multiple Stores
Cache for Logged-in Users
Cache Mobile and Desktop
Multiple Languages and Currencies
Support for Cart and Account Sign In
Auto Purge Hooked with Web Services
Integrated into LSWS and Web ADC
Tag-Based Caching and Purge
---
Frequently Asked Questions
Is the LiteSpeed Cache Module for PrestaShop free?

Yes, LSCPS will always be free and open source. That said, a LiteSpeed server is required, and there are fees associated with some LiteSpeed server editions.
What server software is required for this plugin?

A LiteSpeed server is required in order to use this plugin.

LiteSpeed Web Server Enterprise with:

LSCache Module (v5.2.2+)
LiteSpeed WebADC (v2.1+)

Any single server or cluster including a LiteSpeed server will work.
What is the difference between the LSCache Module for LSWS (requires a license) and the LSCache Module for PrestaShop (free)?

The LSCache Module is built into your licensed copy of LiteSpeed Web Server. When it comes to caching dynamic content, the LSCache Module does all of the work.

The LSCache Module for PrestaShop is simply an interface. It allows PrestaShop to instruct the server Module on what to cache, how long to cache it, and when to purge. And it allows the site owner to manage and configure the Module. Without the Module, the Plugin could not function.

A licensed LSCache Module is required in order to use the free LSCache PrestaShop Module.
Does this plugin work in a clustered environment?

The cache entries are stored at the LiteSpeed server level. The simplest solution is to use LiteSpeed WebADC, as the cache entries will be stored at that level.

If using another load balancer, the cache entries will only be stored at the backend nodes, not at the load balancer.

The purges will also not be synchronized across the nodes, so this is not recommended.

If a customized solution is required, please contact LiteSpeed Technologies at This email address is being protected from spambots. You need JavaScript enabled to view it.

NOTICE: The rewrite rules created by this plugin must be copied to the Load Balancer.
Does LiteSpeed Cache for PrestaShop work with OpenLiteSpeed?

No, OpenLiteSpeed does not support ESI, and ESI is essential to the efficient caching of a PrestaShop store.
Does LiteSpeed Cache for PrestaShop have a crawler?

Yes, there is a crawler script, which you can download here. Instructions for use may be found on our wiki.
How can I install LiteSpeed Cache for PrestaShop?

LiteSpeed Cache for PrestaShop works right out of the box with default settings that are appropriate for most sites. Please refer to the steps from our How to Install LSCPS page.
Are there compatibility issues with PrestaShop native caches? Do I need to stop these caches?

LiteSpeed Cache is a page cache. PrestaShop native caches, such as Smarty Cache and File System Cache, are not page caches and therefore will not cause conflict. We recommend that you leave these caches enabled, unless you are debugging.
What other compatibility issues should I know about?

LiteSpeed Cache for PrestaShop has been tested to be compatible with the default theme out of the box. Shops running other themes may encounter compatibility issues, which could require extra integration code or customized setup. Please be sure to test the LSCPS plugin before putting it into production with a non-default theme.
Is there a plan to add other optimization features, as in LiteSpeed Cache for WordPress?

Not at this time. We suggest you continue to use PrestaShop's built-in optimization solutions.
How can I check if LiteSpeed Cache is enabled?

You can check if LiteSpeed Cache (LSCache) is enabled by using the browser's developer tools. Check out our guide Check if LiteSpeed Cache is Enabled for a step-by-step tutorial.
---
What's New With PrestaShop
August 28th, 2018

Our new cache crawler script travels its way through your sitemap file, refreshing pages that have expired in the cache ...

Read More

May 9th, 2018

Learn which query strings you can ignore, and how to configure LSCache to drop them ...

Read More

October 5th, 2017

The new module communicates with LiteSpeed Web Server to save and serve static copies of dynamic web pages, greatly reducing your shop's page-load time ...

Read More
---
LiteSpeed Cache for PrestaShop Support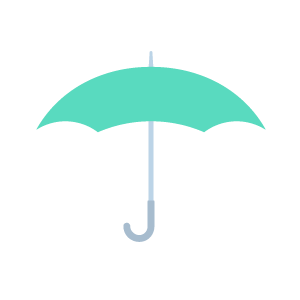 Engage LiteSpeed through one of our four support tiers. We'll expertly configure your system or troubleshoot your issue.