Improve Your PageSpeed Score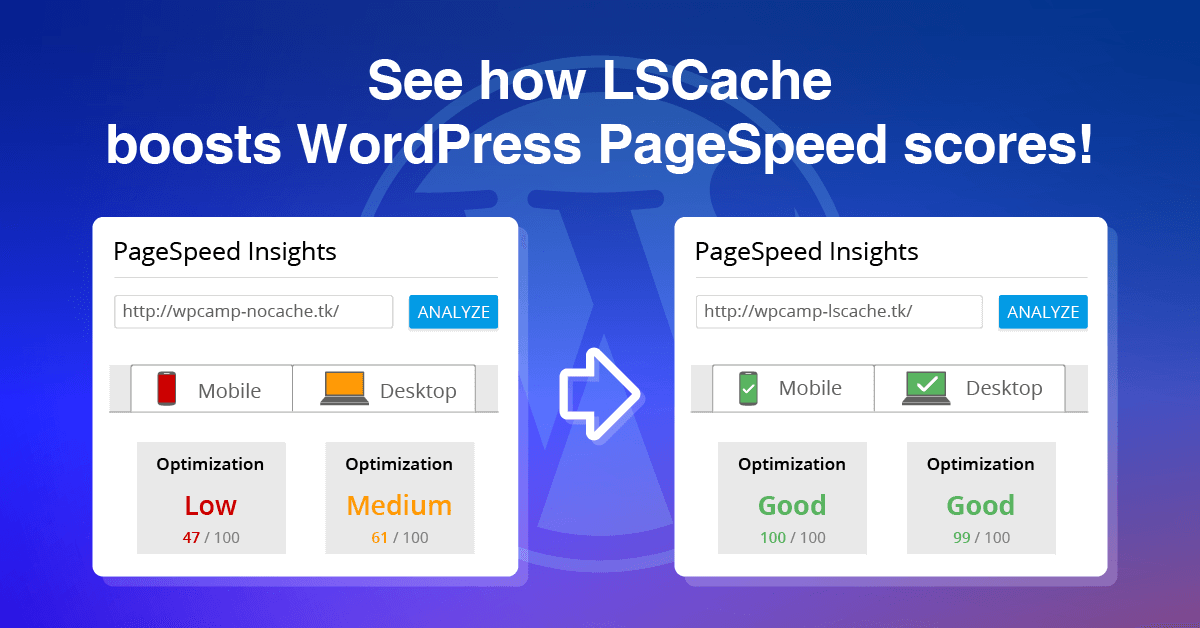 So you've run Google's PageSpeed Insights tool, and you're unhappy with your score. The tool has provided a checklist of suggestions, but how do you implement them?
LiteSpeed Cache to the rescue! The LiteSpeed Cache plugin provides the necessary functions to address the checklist and push your PageSpeed score to new heights: Cache for mobile & logged-in users; image optimization, browser and object cache support, CDN support, CSS/JS optimization, and more.
Add the LiteSpeed plugin to improve your WordPress PageSpeed score and make your site load faster than ever!
---
Benchmarks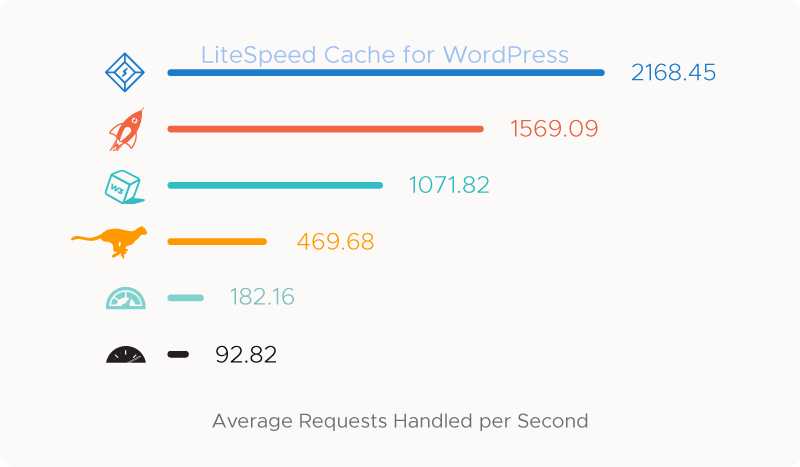 LiteSpeed's exclusive LSCache module, included with every LiteSpeed Web Server license, is robust, flexible, and built right into LiteSpeed web server.
Compare LiteSpeed's Cache Engine to other caching solutions, and you'll see how it outperforms them by a wide margin.
Make your site twice as fast with the flick of a switch!
---
The BEST-Rated Cache Plugin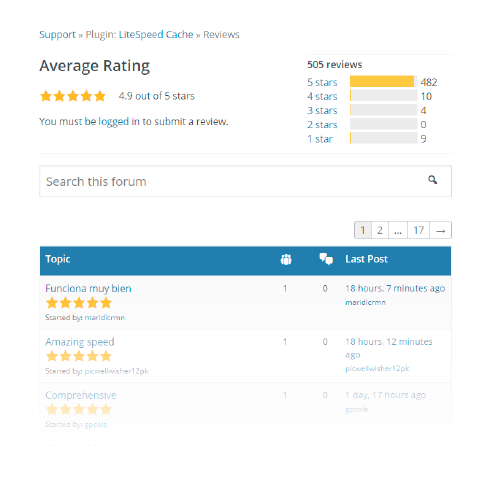 "I've been using W3 Total Cache for a while, but when I used LiteSpeed I immediately jumped boat!"
"On a LiteSpeed server works better than any free cache plugin. I tested WP-Super Cache, W3 Total etc."
"5 Star! Perfectly perfect. Better then WP Cache or Total Cache."
---
Feature Comparison
Feature
LiteSpeed Cache
WP Super Cache
W3 Total Cache
WP Rocket
WP Fastest Cache
Cache Features
Server-Level Full-Page Cache
Tag-Based "Smart Purge"
Tight Integration With Server
Private Cache
Edge Side Includes (ESI)
Crawler
WordPress Multi-Site Support
Cache Logged-in Users
Cache Separate Mobile View
Cache Vary on User Group
Cache Vary on Geographic Location, Currency, etc
Cache REST API
Purge Selected URLs on a Schedule
Browser Cache Support
Other Optimization Features
Content Delivery Networks (CDNs)
Database Optimization
CSS Minify
CSS Combine
CSS HTTP/2 Push
JavaScript Minify
JavaScript Combine
JavaScript HTTP/2 Push
Load CSS Asynchronously
Load JavaScript Deferred
HTML Minify
Exclude Selected URI's from Optimization
Remove Query Strings
Remove Google Fonts
Lazy Load Images
Lazy Load iframes
Wildcard Usage in CDN Support
Image Optimization
Plugin Cost
FREE

*

FREE
FREE / PAID
PAID
FREE / PAID
Support Cost
FREE
FREE
PAID
PAID
FREE / PAID
*Requires Licensed copy of a LiteSpeed Web Server with Cache Module
---
How to Use LiteSpeed Cache
Ready to get started? If you already have LiteSpeed-powered hosting, go straight to the WordPress Plugin Directory, install the plugin and you're done! Be sure to take a look at the Beginner's Guide for some Getting Started tips.
To get LiteSpeed-powered hosting, click the appropriate link below.
LiteSpeed Web Server on Shared Hosting

The easiest way to get powered by LiteSpeed Web Server is to find a hosting provider who offers shared LiteSpeed hosting.

If you already have hosting for your website, ask your provider if they offer LiteSpeed Web Server.

If you need a new host, take a look at our hosting provider partners. Everyone on this list offers LiteSpeed Web Server. Some of them even offer managed WordPress hosting, if you don't want to be involved in any of the technical details.

Use the drop-down search function to filter the results by country and available services.

LiteSpeed on Your VPS

Simply and easily replace Apache with LiteSpeed on your VPS or dedicated server. LiteSpeed Web Server integrates with popular control panels like cPanel,Plesk, DirectAdmin, InterWorx, and CyberPanel.

Replace Apache, double your maximum capacity, and eliminate the need for a 3rd party caching layer - all in 15 minutes with zero downtime!

LiteSpeed Hosting in the Cloud

Through the cloud, companies can offer up on-demand, scalable, high-performance instances in seconds. Marry that with the efficiency, reduced cost and blazing performance of LiteSpeed Web Server and our Cache Solutions, and you've got something truly special.

LiteSpeed Web Server is available in ready-to-use images from Amazon Web Services, Digital Ocean, and Google Cloud Platform.

LiteSpeed Hosting

Integrating LiteSpeed Cache for WordPress into your hosting stack is simple. As a drop-in Apache replacement, LiteSpeed Web Server reads your Apache configuration files and supports .htaccess files as well.

Our integrated control panel plugins make for easy configuration and deployment. Switch between between your legacy Apache installation and LiteSpeed with one click. Enable and manage LiteSpeed Cache for WordPress installations server-wide in bulk.

We offer pricing levels for virtually any server size, and our products run superbly whether on your own hardware, in virtual space or on the cloud.